Five ways to solve last mile problems in 2022

Carlos Diaz
Dec 29, 2021 2:00:00 PM
The logistics industry is growing, and the demand for faster and more effective service has made last-mile deliveries a crucial part of supply chain management. Last mile deliveries refer to the process of transporting goods from a warehouse, dark store or store to the customer's address.
What is the problem with last mile?
The main objective of last mile logistics is to deliver the order to the customer as soon as possible. The problem is that, although customers want fast delivery at no cost, this process is extremely expensive, adding up to 53% of the total cost of shipments. Therefore, each inefficiency in the process significantly increases the costs of deliveries and reduces the profitability of the business. Without the right infrastructure and maximizing economies of scale at every point in this process, it is unlikely that a business will simultaneously increase its profit margins and keep its customers happy.
Some of the problems that commonly make the last mile difficult are:
High delivery costs

Lack of transparency throughout the process

Interrupted communication during order tracking

Multiple failed delivery attempts

Inefficient routes

Unpredictability of changes in traffic conditions

Lack of adequate infrastructure for deliveries

Outdated delivery tools and technologies
How to improve last-mile deliveries
Outsourcing transportation
Organizations whose last-mile operations have grown recently often make mistakes in this process, which is costly and leads to customer rejection of their brand. Given the urgency of perfecting home deliveries, several companies have opted to outsource their last-mile operations, in order to mitigate the learning curve involved in managing their own operation.
With this decision, they can take advantage of the physical infrastructure of carriers to improve the quality of their service without absorbing the risk and costs of starting an internal operation. However, last mile outsourcing is not the end all solution; in order to achieve on-time deliveries and complete orders, organizations must also focus on optimizing other processes, such as:
Inventory control

Replenishment

Merchandising

Picking

Customer Service
One of the disadvantages of outsourcing last mile operations is depending on external factors that the company cannot control such as; being subject to changes in the provider's policies and renegotiations of the terms of its contract, receiving poor customer service, etc. It may be convenient — financially speaking — to invest from the beginning in your own last-mile operation, instead of directing those resources to monthly payments that do not contribute to the construction of an internal infrastructure.
Delivery Management System
Implementing a delivery management system reduces last mile logistical challenges. In this day and age, there are technologies in place that exist with the sole purpose of minimizing the most common errors of the process, for example; if there is a traffic jam on route, a system can automatically redirect a vehicle in order to avoid delays. These softwares—commonly known as delivery management systems— are also designed to integrate the links of the supply chain, so they can work based on information from other systems and help to manage all fronts related to deliveries:
Automatic order allocation

Automatic dispatch

Customer support through chatbots

Real-time dynamic routing

Flexible delivery scheduling

Live tracking for customers

Digital Proof of Delivery (POD)

Communication with drivers

Recruitment and training

Reverse logistics
The business intelligence tools of a delivery management system have the ability to generate detailed information on daily operations and analyze this data to track its performance based on indicators such as total time on route, fill rate, transportation costs, customer satisfaction, etc.
Five ways to solve last mile problems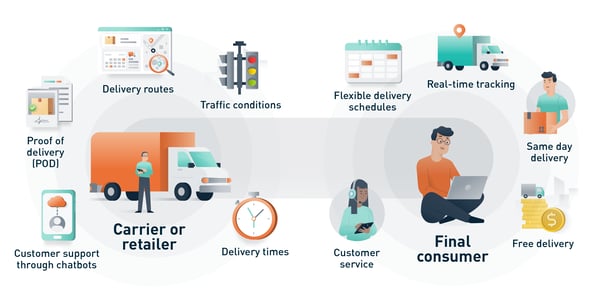 Reduce the distance between the client and the warehouse
To reduce risk factors, costs and delivery times, it is ideal that the distribution center be located near the area where there is a greater concentration of consumers. A warehouse close to delivery addresses can also serve as an order pickup or return point for customers, facilitating reverse logistics and reducing the length of each journey. In addition, this proximity increases the ROI of warehouse operations by simplifying inventory management and simplifying each process.
Using technology to optimize delivery
New technologies are able to analyze information in real time to make informed and accretive decisions. These technologies integrate Machine Learning solutions and artificial intelligence for route navigations, assigning drivers, etc., which generates savings across the board, reduce the total time of the logistics cycle, plan more efficient delivery routes and more.
Optimize delivery routes and dynamic routes
Effective route planning reduces delivery times dramatically. Using software that automatically schedules routes can recommend the most efficient routes, by taking into account delivery history, time, location, vehicle capacity, and traffic. Any updates in traffic status could affect scheduled delivery times, but with the right technology, the driver could be instantly notified of any route changes. Given the volume of orders to be delivered, any mishap on delivery routes causes significant delays, so it's important to find a way to monitor traffic in real time and immediately notify drivers of the new plan to follow.
Notifying the client on any and all delivery updates
Today's customers demand flexible deliveries, as they are not always at home when their order arrives. Therefore, they should receive regular notifications throughout the delivery process so as to know where their purchases are and when they can expect them. This not only benefits the customer, but also the driver, as it ensures the customer's availability at the time of delivery. In addition, this visibility increases consumer confidence in the brand, since they are always sure that they will receive their order.
A recent study looked at the consumption trends of 4,700 people from the United States, Germany and China. It revealed that a wide variety of delivery options and the perceived value of the delivery service are the main criteria for consumers to make purchasing decisions, and have a high impact on a company's e-commerce sales.
Implementing an effective real-time delivery tracking system
Real-time order tracking helps companies and customers stay on top of the status of packages until they reach their final destination. This tracking enables delivery updates to be shared in real time. Issues such as missed scheduled times, difficulties with route optimization, lack of proof of delivery (POD), and a lack of infrastructure to offer contactless payments can affect the customer experience and the success of a business. The biggest challenges that threaten logistics operations can be solved with the implementation of an advanced solution that simplifies operations and makes them run at maximum speed.
The future of last mile
From now on, last-mile deliveries will increase in complexity, but this does not necessarily mean that their cost will increase as well. Companies must keep their eyes ahead and seriously consider adopting innovative strategies to generate competitive advantages in the market. In the long term, this will reduce costs through alternative delivery tools, such as delivery crowdsourcing the use of electric vehicles, opening dark stores, among other solutions. It is important to consider the scalability of these tools when deciding which strategy to implement, since e-commerce continues to grow and the capacity of organizations must meet demand.
Follow us on LinkedIn to stay informed!

I have a BSc in Industrial Engineering from Tecnologico de Monterrey and a MSc in Financial Engineering and Risk Management from Imperial College London. I enjoy writing about the issues I've helped my clients solve over my almost 20 years' experience as a supply chain consultant.