Discover the Netlogistik Difference at ICON 2023

Francisco Sahagun Lopez
Mar 29, 2023 10:00:00 AM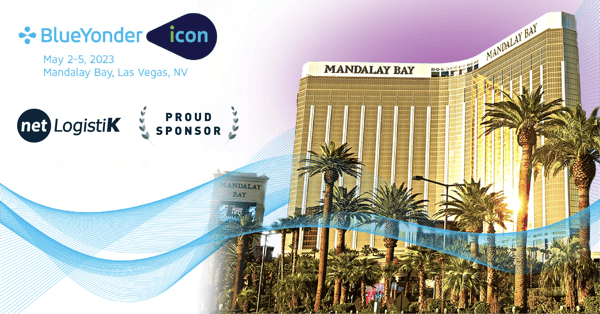 Netlogistik is thrilled to be attending and sponsoring Blue Yonder ICON 2023. The premier supply chain industry event, ICON presents an excellent opportunity for us to connect with industry professionals like you, to showcase our suite of strategic advisory and seamless deployment services for companies looking to optimize their logistics operations and improve their bottom line.
Here are the Top 3 Reasons you should make it a priority to meet with us at Blue Yonder ICON 2023:
1. Expert consulting services: Netlogistik offers expert consulting services to help businesses identify areas where they can improve their supply chain operations. Our services are designed to help businesses of all sizes and industries streamline their operations, reduce costs and improve efficiency across transportation, warehouse and labor management, as well as omnichannel commerce. Our team of seasoned experts can work with you to identify areas of inefficiency and develop strategies to optimize your operations.
2. Proven track record of success: At Netlogistik, we have a proven track record of success, with a long list of satisfied customers across a range of industries and countries. By partnering with us, businesses can leverage our decades of experience and expertise to improve visibility of your operations, increase service levels to your customers, grow your teams' productivity and speed your return on investment.
3. Global scale and flexible offerings: Netlogistik is constantly pushing the boundaries of what is possible in the supply chain industry. We are here to help you reach your goals and overcome challenges. We provide strategic vision assessments, solutions roadmaps and pilot projects, solutions management, including 24x7 support and managed services as well as implementation inhouse methodology, change and project management. All on a global scale to meet your near- and on-shore requirements.
There are many other reasons you should plan to meet with Netlogistik at Blue Yonder ICON 2023 (Booth #8A). With our advanced supply chain solutions, expert consulting services, proven track record of success and more, Netlogistik is well-positioned to help businesses of all sizes and industries optimize their supply chain operations and achieve real, measurable results. We look forward to meeting with you at ICON and exploring how we can help you take your supply chain and logistics operations to the next level.
Follow us on LinkedIn to stay informed!

I have a Master's Degree in Marketing and a Bachelor's in Industrial Ingeneering, specialized in Logistics, both from Tec de Monterrey. My 15 years of experience in logistics processes and operations have been focused on warehouse, transportation and demand planning technologies. Today, I am the Sales Director for Supply Net y and some of Blue Yonder's products in the U.S. and Canada.