Netlogistik opens its offices in Brazil

Begoña Sánchez Ferrer
Jun 13, 2023 10:27:09 AM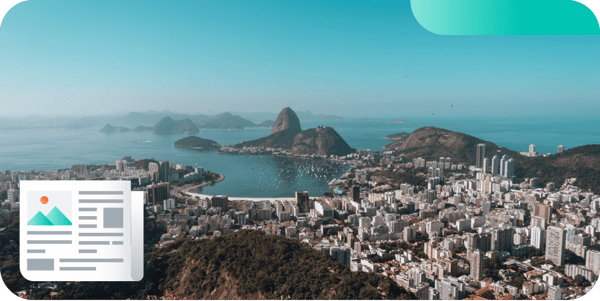 We are happy to announce that earlier this year, we opened our first office in Brazil to start operating with our partner, Ideal Business directed by Sergio Tonello. At Netlogistik, we continue to execute our plans to expand and provide our services and solutions worldwide, now adding another country, along with Mexico, Colombia, the United States, and Spain.
This "Ideal Business- Netlogistiks" partnership, offers a wide range of services to help companies achieve their goals and optimize the performance and productivity in their operations. It is a company whose services aim to solve customers' problems at all stages of implementation of logistics execution systems in transport and storage.
Francisco Giral, founder and director of Netlogistik, said: "We are very excited about the opening of the Netlogistik office in Brazil. We will serve the largest market in Latin America in their language and locally and cover
the American continent from Alaska to Patagonia. We see accelerated growth with the largest supply chain technology team in the region and the leadership of Sergio Tello, who joins as a local partner and Country Manager with more than 25 years of experience in the subject and passion and commitment that characterizes us in Netlogistik"
This expansion is key as we identified the need to attend, support, and provide our solutions to the market and customers in the region.
Héctor García, co-founder and managing partner of Colombia, mentioned the following: "As part of the globalization of Nelogistik and after the most recent office openings in the United States and Spain, we have decided to start a new challenge
in Brazil using the model that we have successfully used in all offices. In Brazil, we partner with the company Ideal Business, led by Sergio Tonello, with extensive experience implementing technological solutions from Blue Yonder. With this Alliance and the support of more than 200 group specialists, we guarantee this new challenge's success"
We look forward to supporting our customers with services, developments, and support for their logistics operations, and are excited for new business opportunities in Brazil.
Sergio Tonello, country manager, Netlogistik Brazil, mentioned the following: "We are very excited and honored with this partnership to bring the Netlogistik operation to Brazil. Surely it is a fantastic addition to the entire Brazilian Supply Chain sector, given what Netlogistik represents in the Latin American and global market.
A company with a history of lasting and successful relationships, working with its customers on customized and efficient solutions. All this global structure will be available to customers in Brazil, along with the execution capacity and market knowledge of our local team. This synergy will bear great fruit"
Follow us on LinkedIn to stay informed!

As a pedagogue, I like to create texts that inform and educate the reader in a didactic, visual, and fun way. I write about topics related to the supply chain and technology to make them easy and interesting, and thus achieve meaningful learning in my readers.